NEWMAX BATTERY : 25 years of professional battery manufacturing experience which made Daejin Korea Battery one of the leading storage battery manufacturers in the world.
Newmax Made in Korea and it's number 1 in Gel exporting ​in Korea .
​
It's member of BCI:  http://batterycouncil.org/?page=Industry_Links
Website: http://newmaxbattery.co.kr/eng/
Main catalog:  Newmax Comapny Catalog
_____________________________________
SG-SERIES (Solar Gel Deep Cycle):
NEWMAX Solar Gel batteries are true maintenance-free sealed batteries engineered specifically to satisfy the need for frequent deep cycles from photo-voltaic (PV) and renewable energy storage applications. We are confident that our technology-intensive, long-lasting, and environment friendly SG Series batteries will provide stability and efficiency for your everyday renewable energy needs.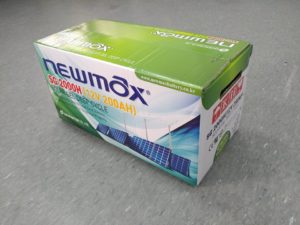 Data sheets :
_____________________________________
UPN SERIES:
2V Deep Cycle Premium Gel with Longer Life.
The Newmax UPN Series is an ultra efficient premium quality UPS battery series. This innovative and technology intensive product has proven to last up to 60% longer than its predecessor, the PNGB series. Constant drive for true innovation was the key to the success of our UPN series.
Data sheets :
_____________________________________
PNB SERIES:
PNB Series is AGM and VRLA type batteries available in various capacities and dimensions which can be installed in any direction. The sealed structure is possible due to technology that prevents over ressuring from excess gas formation. This series can be used for UPS, telecommunications, lighting systems and more.
Data sheets :